In the quest to find the most authentic Bombay location for a shoot, which was not touristy like Gateway of India, I picked this place: Chor Bazaar. The name literally means a market where stolen stuff is sold. Hehe, I know that's terrible, but it exists and thrives with people shopping there everyday for things as little as makeup to antique furniture, all stolen or second hand. It can't get more Bombay than this.
So for people interested this is my little Chor Bazaar project. I will be doing this post in parts. This is first part and I want to post it as a mini-story [See below]. It's not really a fashion story, more of just a story.
The location is a roadside barber's shop where you can get a hair cut for less than 50 cents. And the guy sitting next to me is as much a part of this story as I am.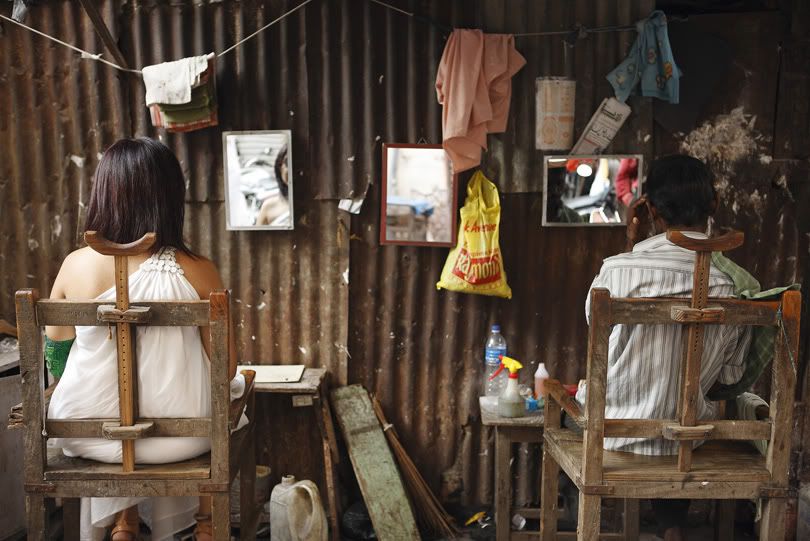 MINI STORY:
I walk to this filthy roadside barber's shop. I sit down in the empty chair out of the 2. The other one filled with this man who watches me. I look at him with a soft smile and think to myself, "I wonder what's his story". The man, seeing someone dressed the way I was in an area like Chor Bazaar wondered, "What's her story". A few moments pass and we both are lost in our own thoughts forgetting about each other's presence waiting for the barber to show up. Nothing better to do but stare at our reflections in the mirrors hanging by a wire on the wall in front of us. " I wonder what's her story," I think. The man nodding slightly, "Hum".